May 17, 2012 in Uncategorized by Admin
Registration essential. FREE entry to afternoon EBPOM sessions. Limited places. Book here to avoid disappointment.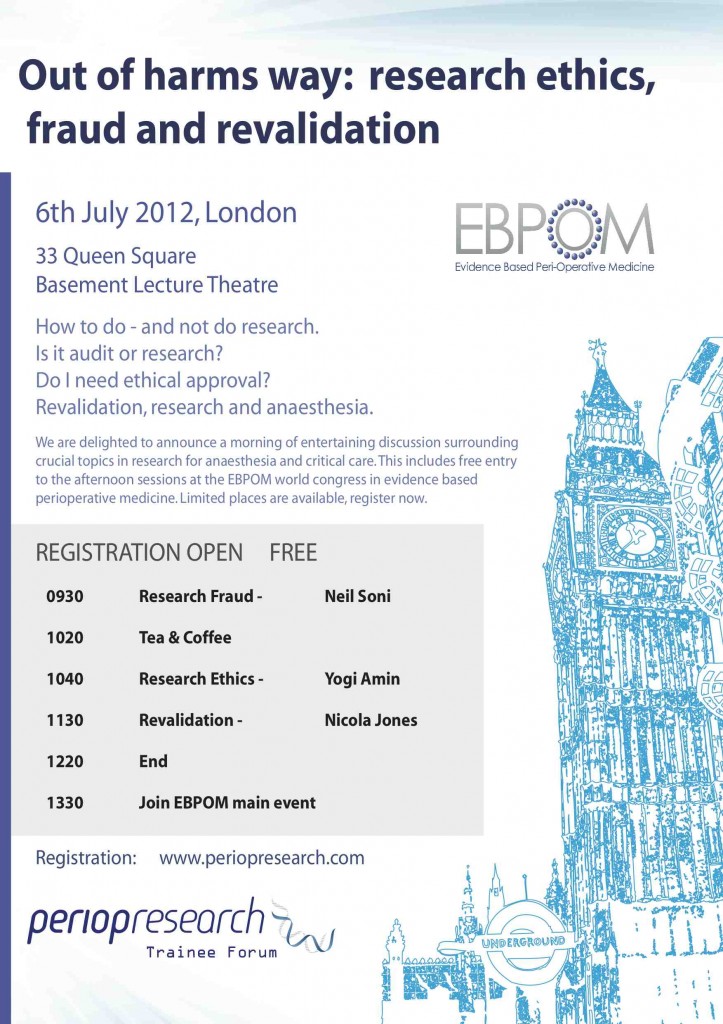 We are delighted to invite you to an exciting research oriented study day on Friday 6th July at 33 Queen Square.
In the morning we are fortunate to have Neil Soni and Yogi Amin discussing crucial ethical aspects of how to do – and not do research. Following this we will learn how we are expected to "revalidate" particularly when involved in non-clinical activity such as a programme of research. A topic we hear much about, yet may know little of.
Our afternoon programme includes FREE entry to the EBPOM world congress in perioperative medicine where world leading experts will discuss the cutting edge of perioperative care.
Afternoon session – EBPOM site (Institute of education)
13:30-14:00 , Concepts in Blood Transfusion – Do we still need to be conservative?, Scott Brudney
14:00-14:30, No debate- regional anaesthesia is the gold standard!, Stuart Grant
14:30-15:00, Perioperative stent and anticoagulation management :emerging evidence, Lee Fleisher
15:00-15:30, Refreshments
15:30-16:00, Real change – the momentum of peri-operative care, Mike Grocott
16:00-16:30, The perfect peri-operative fluid, Daniel Chappel
16:30-17:00, Blood flow and depth of anaesthesia-Perfect partners!, Max Jonas